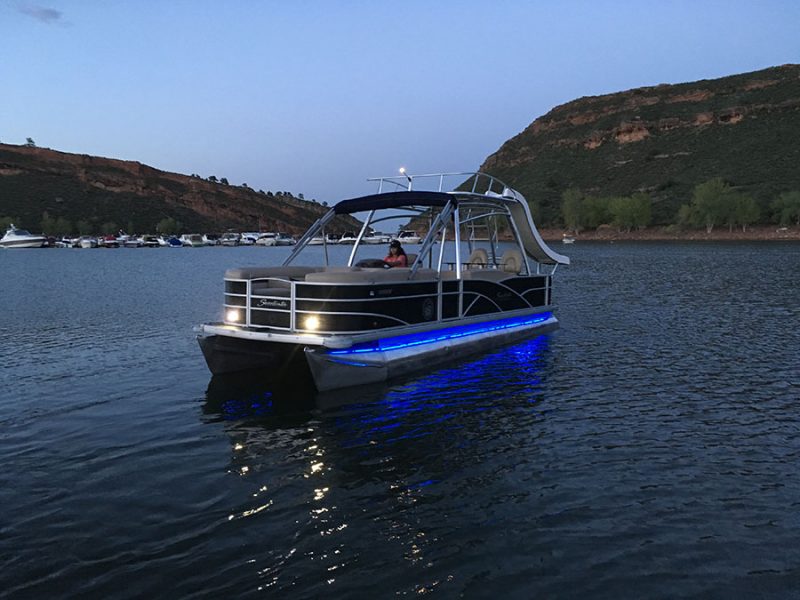 Horsetooth Reservoir Boat Rentals
Horsetooth Reservoir (Horsetooth, for short) is a large reservoir located just west of Fort Collins, Co. The reservoir is six and a half miles long and surrounded by 1,900 acres of public land. No matter what outdoor activity you are looking for, Horsetooth reservoir has it all. Spending a perfect weekend at Horsetooth reservoir boating and camping is a hard thing to beat!
Renting A Boat For Horsetooth Reservoir
Of course, some of the most enjoyable activities require getting out onto the water and for that, you need a boat. Not to worry! Renting a boat for Horsetooth reservoir is very easy. Colorado law requires the driver to be 16 years of age or older, though particular companies may have additional requirements. That's it! Buckhorn Ridge Outfitters offers two different kinds of motorized boat rentals, a single-person pontoon (great for rivers!) that can be equipped with a trolling motor, and paddle boards for rent. Cruising out on Horsetooth reservoir makes for a great day on the water, whether you are out fishing or just enjoying the sun.
Horsetooth Reservoir Boating
Horsetooth reservoir is the 9th largest body of water in Colorado and offers tons of open water to jet around on your boat rental! The reservoir does require entrance permits and/or fees in order to bring your boat rental into the water. Now all you need to do is pick the right boat rental for you! The first thing to consider is the size of your party. If you have a large group then you might be more comfortable on one of our pontoon boats. 

Fishing Boat Rentals Near You
Horsetooth Reservoir is a favorite fishing spot near Fort Collins. In the reservoir, you can find all sorts of fish including bass, trout, walleye, and panfish. The reservoir has four dams which provide good spots to cast a line near. The fishing is good all year round but gets really great in the Fall. Finding a fishing boat rental near you is an easy task. Just head over to our rentals page and RSVP the perfect boat for you or call us today. We also offer Boyd Lake boat rentals for those who want to fish different spots around Northern Colorado.
Wakeboard Boat Rental Colorado
There is nothing quite like the feeling of tearing up some water on a wakeboard! To really crush a boat wake though, you need to have the right wakeboard boat. Smaller, faster boats offer lots of fun to those with more experience.  Larger boats, such as our pontoon boat rental option, offers lots of space and an easier pace for people to learn. Horsetooth reservoir is an awesome place to cruise around on a wakeboard under the Colorado sky. We offer two great options for wakeboard boat rentals to get you out and on the water!